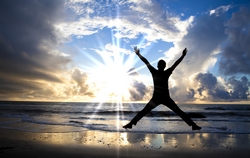 Do you know what courage and love it took for you to enter this world as Spirit taking form?
Have you ever contemplated the immensity of the impact you have on all of Creation each time you express your True-Self of love in some way?
Do you really truly realize just how much power you have available to you?
Have you ever considered that all the limitations of your life are but the clay you chose to create some exquisitely beautiful pottery out of?
Do you know just how beautiful you are… JUST as you are?
Are you aware that any changes you make in yourself are nothing but a few extra frosting sprinkles on an already amazingly wonderful and delicious cake?
If you wish to know what Infinite Power and Unlimited Pure Love and Beauty look like, go have a look in the mirror!
You are totally beyond awesome my dear soul friend, and please don't forget it!
Become a Supporting Subscriber and help us keep this amazing cosmic energy flowing!